Straighten your teeth in secret with SmileStyler® Clear Aligners. No more braces or wires! All you need are nearly invisible aligner trays that gently shift your teeth into place.
SmileStyler® is highly effective in treating a variety of teeth alignment issues.
Teeth alignment issues and the various types of malocclusions.
"Malocclusion" is the technical term for misalignment or incorrect relations between teeth (your smile), or between two dental arches as the jaws close (your bite).
Malocclusion is very common, and can be caused by anything from lost teeth, to oral habits.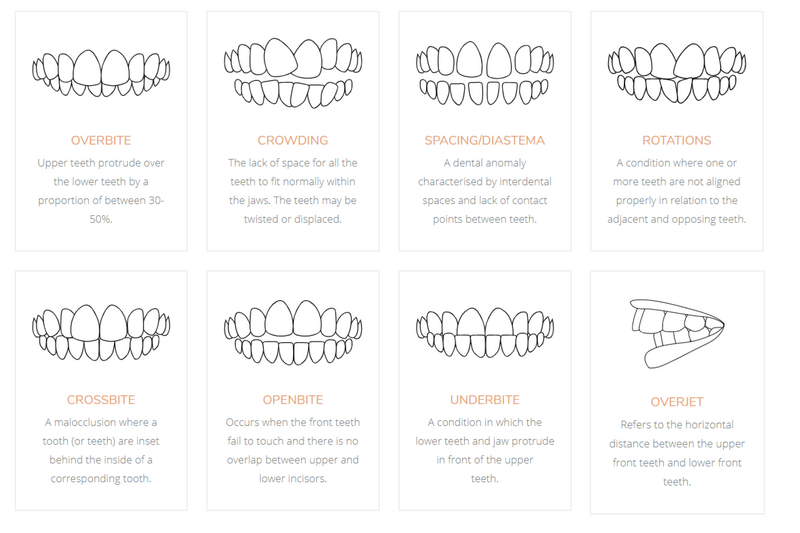 Why SmileStyler® Aligners
Not all materials in the market are the same. SmileStyler aligners use a special medical grade polyurethane that is BPA, phthalate, and gluten free. Each aligner is individually trimmed to perfectly fit your teeth.
SmileStyler clear aligners conform to all applicable TGA requirements. All aligners are manufactured in a controlled environment in Port Melbourne, VIC. SmileStyler is also ISO-13485 registered, certifying they adhere to international standards for the manufacturing of custom medical devices.
Made in Australia etc.
Why should I choose SmileStyler® aligners over braces?
Aligners are nearly invisible –you can straighten teeth without anyone knowing
Requires fewer visits to the dentists/orthodontist
They are removable and work into your lifestyle –Love coffee. Not a problem! You can eat and drink anything you want during treatment. Additionally you can brush and floss normally to maintain your oral heath
Aligners are comfortable -Individually trimmed and fit perfectly. No irritation from wires or brackets. No metal wires will minimize the number of visits to the dentist/orthodontist
Phased Treatment ensures that you get real time progress of your treatment and ensures that each aligner fits perfectly.
The 3D simulation allows you to view your plan before you start –making it possible to visualise the end result and your goals
The SmileStyler® Process
Scan
We'll take a 3D scan of your teeth and gums. Compared to the dated physical impression, a scan is far superior in terms of comfort and accuracy. We'll also get photos of your face so to design your perfect smile.
Ready to see your Perfect Smile
Your personalisedtreatment plan will be returned in just one week. SmileStyler's Smile Check software allows us to carefully plan your journey to your perfect smile. Using the latest and greatest 3D imaging software, we calculate the appropriate amount of force for each tooth movement. Each step is mapped so the movements are staged in perfect harmony.
SmileStyler® Phased Treatment:
Teeth straightening is a medical procedure and needs to be monitored by a medical professional.
Prior to treatment we must examine your teeth and gums to ensure you are a suitable candidate for SmileStyler. This examination includes an oral and periodontal health assessment.
Phased Treatment is the unique approach to clear aligner therapy, so you will only receive 6 stages of aligners at a time. When you are up to your last set of aligners, a new 3D scan is required (every 10-11 weeks). This 3D scan is analysedto determine how the next Phase of aligners are manufactured. This is how we ensure your aligners always fit.
Unmonitored or poorly managed treatment can leave you with more problems than you started with, ranging from gum recession to tooth loss. Your safety is our primary concern, and we'll be there with you every step of the way.
Am I suitable for SmileStyler® Therapy?
Am I suitable for SmileStyler Aligner Therapy?
Although aligners are offered in many cases, there are some orthodontic outcomes that are difficult to achieve with aligners:
Dramatic overbite
Large underbite
Severe crossbite
Up-righting severely tipped teeth
Not all permanent teeth have erupted
Multiple missing teeth
Unsuitable gum condition –gum disease
Severe orthodontic issues
Patient wanting to change their facial profile
Other Frequently Asked Questions about SmileStyler® Aligners
How long will my treatment take?

The length of treatment differs case to case, as everyone is different and seeking different results. It also depends on the severity of your case and whether you have been wearing your aligners diligently. An average case is between 12-24 months, simple correction can be achieved in as little as 6 months. Book a complimentary consultation to get a better idea of your particular case.

How often should I be wearing my aligners?

SmileStyler Aligners need to be worn Every day for at least 22 hours a day! They can be taken out when eating, brushing and flossing. The more you wear them, the better the results The only beverage you can drink with aligners on is water. And it is important that you brush your teeth after
each meal and prior to reinserting your aligners to maintain proper hygiene.

You will also need to make sure you use the Chew Tool provided every time you re-insert your aligners for at least 5 min, to ensure the aligners are fitting perfectly.